Veritas North
HCT Newsletter, 2013
Table of Contents

Governor Deval Patrick Unites Massachusetts Alumni Groups in Toronto
Nancy J. Coombs, EdM '89
Massachusetts Governor Deval Patrick met with Harvard Club of Toronto members at a reception on October 9, 2013, at the Rosewater Room in Toronto. The 'Global Alumni Reception' was held in conjunction with the Massachusetts-Canada Innovation Partnership Mission, a seven-person delegation led by Governor Patrick, which included stops in Ottawa and Montreal in addition to Toronto and focused on life sciences, technology, and innovation industries.
In attendance were around 150 guests and local alumni and alumnae from MIT, Tufts, Babson, Brandeis, UMass, Northeastern, Suffolk, Smith, BC, and BU along with Harvard (which had the largest contingent!). The reception was hosted by the Massachusetts Global Alumni Network (MGAN). The MGAN "brings together business, civic, and academic professionals around the world who have roots in the Commonwealth [of Massachusetts]," according to Kelsey Cintolo, Vice President for Research and Policy at the Massachusetts Competitive Partnership. Tied into the governor's trade missions, MGAN events have taken place in Sao Paulo, Brazil; Bogotá, Colombia; and Dublin, Ireland, in addition to Toronto.
The Massachusetts Competitive Partnership, organizer of the event, is a non-profit public policy organization whose mandate is to promote job growth and competitiveness in the Commonwealth. Its board members include the CEOs of sixteen of the largest Massachusetts-based companies. Liberty Mutual, the sponsor of the Toronto reception, is represented on that board. Harvard's own Paul Alexander ('82, MBA '87), Chief Communications Officer for Liberty Mutual, introduced Governor Patrick at the reception.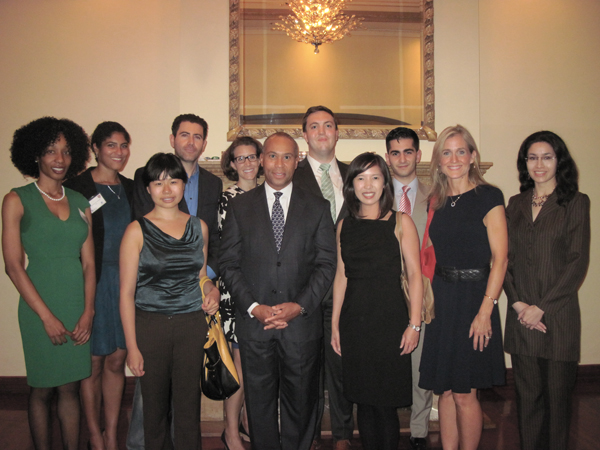 Return to top
Harvard Club Brown Bag Lunches
Wendy Feldman, MPA '89
Brown bag lunches capture some of the spirit of our experience at university – learning something new, sharing ideas, and getting to know each other. They are informal and usually free... bring your lunch, engage your mind.
The Harvard Club has hosted several brown bag lunches in recent months, bringing together between 20 and 60 people each time to hear the latest project or publication in which Harvard alumni are making a difference. We are grateful to the friends of the Club who have hosted events at their companies, universities, foundations and associations in downtown Toronto.
The sheer variety and number of lively and thought-provoking presentations attest to the major contributions of Harvard alumni and alumnae to public administration, public health, education, and business management.
The Club's recent brown bag lunches have included:
On June 6, 2013:
Sandford Borins
presented his book Governing Fables: Learning from Public Sector Narratives at the Rotman School of Management. Sandy's framework for examining the narrative helps explain approaches and motivations of individuals, events and outcomes in government.
On September 12, 2013:
Ian Clark and David Trick
shared their research (published in Academic Reform: Policy Options for Improving the Quality and Cost-effectiveness of Undergraduate Education in Ontario and Academic Transformation: The Forces Reshaping Higher Education in Ontario) and recommendations with Harvard alumni and alumnae, Ontario government staff and students at the University of Toronto's School of Public Policy and Governance.
On October 8, 2013:
Michael Raynor
presented his new book The Three Rules: How Exceptional Companies Think (co-authored with Mumtaz Ahmed) at an event hosted by Deloitte.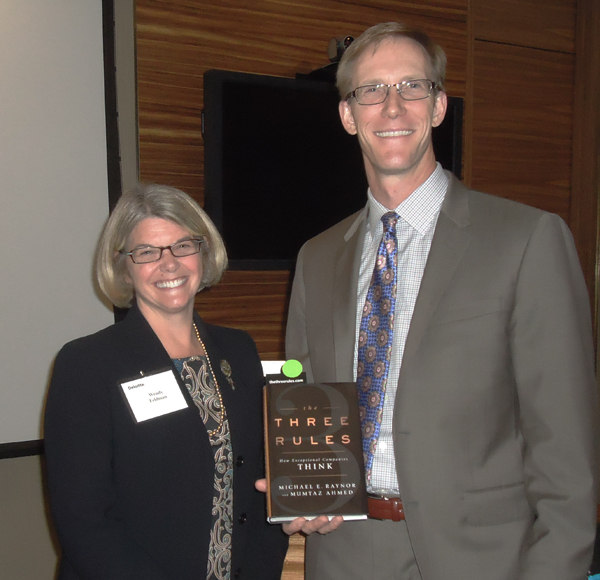 The Club takes great pride in the work of our distinguished alumni and alumnae in Toronto. Please let us know if you know of other people who would lead a brown bag lunch discussion.
Return to top
Luncheon with William R. Fitzsimmons, Dean of Admissions and Financial Aid for Harvard College
Nancy J. Coombs, EdM '89
Dean of Admissions and Financial Aid for Harvard College, William R. Fitzsimmons, was the guest of honour at a Harvard Club of Toronto luncheon on Thursday, September 19. An enthusiastic group of club members and guests were on hand to hear Dean Fitzsimmons' remarks on "Admissions, Financial Aid and the Undergraduate Experience at Harvard Now" at Dentons LLP. At the lunch the Club also welcomed Grace Cheng '97, Harvard College's new Admissions Officer responsible for our area.
Dean Fitzsimmons ('67, EdM '69, EdD '71), who has served in his role since 1986, was introduced by Bronwen Evans, who recently relocated back home to the Toronto area, after serving as a Harvard College's Admissions Officer for several years, including in the role currently held by Grace Cheng. Bronwen - welcome back to the GTA!
Dean Fitzsimmons spoke warmly of Harvard's Canadian alumni and alumnae, including David Johnston '63. The current Governor General of Canada, a former captain of the Harvard hockey team, went on to become the first non-American to be elected president of Harvard's Board of Overseers.
"Reaching out to the full talent pool" is a top priority for the Admissions Office, stated Dean Fitzsimmons. Presentations at schools and university fairs are one important way that Harvard can reach its target audience. Locally, Grace Cheng took part in the "Ivy Plus" fairs at Appleby College in Oakville on September 17, followed by one at Northern Secondary School in Toronto on September 18. Social media and electronic tools are also increasingly significant in providing information to prospective students. Dean Fitzsimmons talked about Harvard's newly redesigned website, and video, which will be unveiled imminently. New campus initiatives, such as the Innovation Lab, the SEAS (School of Engineering and Applied Sciences), and more study abroad opportunities, are also attracting talented applicants. The percentage of international applicants is rising, as well, with international students comprising 11.1% of last year's admitted students.
Affordability is another key priority. Harvard College's generous financial aid policy – including waiving tuition fees for families whose annual income is less than US$65,000 – has resulted in greater economic diversity in the applicant pool. International students have equal access to this financial aid. The Harvard Campaign, launched in September with a goal of US$6.5 billion, will further support financial aid as well as enhance the undergraduate experience through the renovation of the Houses.
The importance of the incoming students' ability not only to learn, but also to teach and share their experiences with fellow students and faculty, was underscored. To facilitate this communal experience, Dean Fitzsimmons serves on the "Committee on Common Spaces", launched in 2009. From the Yard, to the Science Center Plaza and the proposed new Campus Center within Holyoke Center, the shared learning experience at Harvard is highly valued. Take a look at Harvard's Common Spaces initiative here.
Later that evening, Dean Fitzsimmons and Grace Cheng also presented a 'how to' workshop for our volunteer interviewers, organized through the Club's Schools Committee. The workshop was held at Aird & Berlis LLP. The Club's appreciation goes out to Shayne Kukulowicz '84, of Dentons, and Bernie McGarva '75, of Aird & Berlis, for hosting these wonderful events.
Return to top
What's at Stake in Myanmar's Political, Economic and Social Opening?
Jordan Dupuis, AB '99
On an evening of 30+ degree temperatures on the Thursday evening before the August long weekend, the Harvard Club, in cooperation with the Asia Pacific Foundation of Canada and East Gallery, brought together 80 people for an evening discussion with Mr. Elinor Bajraktari, a graduate of the Kennedy School of Government, on recent developments in Myanmar (Burma). For a year before coming to Toronto Mr. Bajraktari led United Nations Development Programme's (UNDP) agenda and planning in support of Myanmar's economic development policy and public administration reform.
Elinor described the immense challenges the country faces having emerged from a near forty-year military dictatorship following elections in 2010. Myanmar is attempting to undertake simultaneous political, economic and social transformations: opening the country's political system to move towards democratic elections and institutions; liberalizing a formerly closed and restrictive economy; and opening space for civil society organizations including media.
Elinor recognized the country faces numerous challenges but remained positive about its prospects for success in the long term as he saw much hope for the future in the country's people at all levels of society.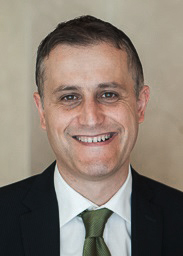 Return to top
Harvard Club 'New Admits' Reception at the US Consul General's Residence
Wendy Feldman, MPA '89
US Consul General in Toronto, Jim Dickmeyer, and his lovely wife Heather welcomed the Harvard Club of Toronto to their home June 10. On this warm summer evening they feted the newly-admitted students to Harvard College and the Graduate and Professional schools, as well as the students' parents and HCT interviewers. Also included were the recipients of the HBS Club of Toronto scholarship winners – who were about to leave for their summer programmes in Cambridge.
New President of the Harvard Club, Jordan Dupuis, thanked Jim and Heather Dickmeyer for their warmth and generosity in opening their home to Harvard friends. He also noted the wonderful help the Club has received from the Consulate staff at this event, and over the past years. Excited students exchanged contact information as their parents 'kvelled' with Harvard Club interviewers. Old and new friends chatted until dusk. Mr. Dickmeyer, sporting his new Harvard baseball cap, spoke eloquently about the enduring relationship between Canada and the US, and the importance of cross-border exchanges, visits and academic experiences.
This reception heralds the first steps of the newly-admitted students' academic adventure in Cambridge, the beginning of their connection with Harvard and their deep understanding and affection for the United States.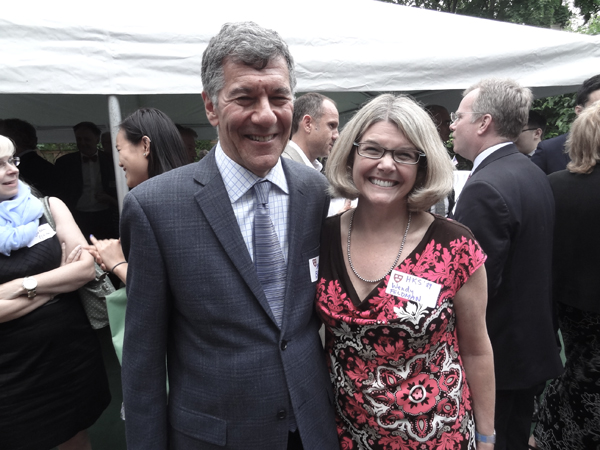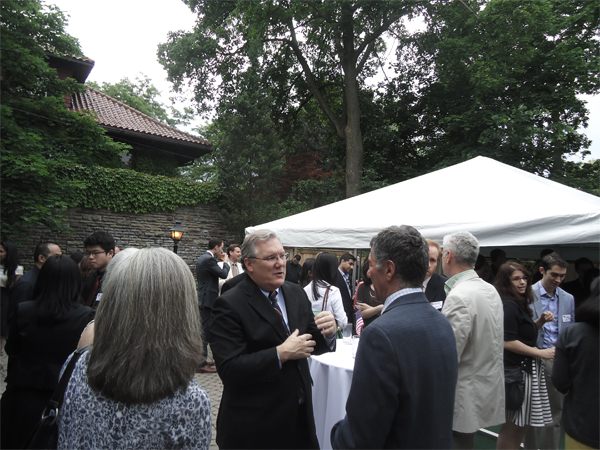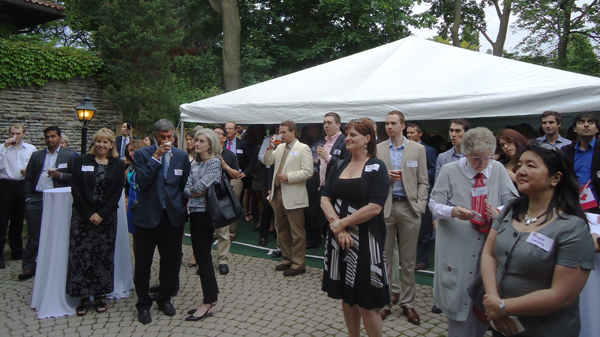 Return to top
No Miracle: What Asia Can Teach All Countries About Growth
Wendy Terry, EDM '97
On May 9, 2013, I joined over 50 of my fellow Harvard Club members at Ben McNally's bookstore on 366 Bay Street for a launch of Mitchell Wigdor's book No Miracle. Mitch is a Past President of the Club, is currently Co-Chair of the Club's Schools Committee, a business advisor and an Adjunct Professor in the University of Toronto's Faculty of Law. This book is part of the Global Financial Series published by Ashgate, in England.
The evening was enjoyable very enjoyable. Jordan Dupuis organized the wine and cheese, Sheila Murray took the photos and the ambience at Ben McNally was that of a true book store. Mitch introduced the book's main arguments, engaged in a lively question period and signed copies of the book, all of which made an enjoyable evening.
Back home I settled down to read the book and quickly got hooked. Mitchell Trebilcock, whose review appears on the book's back cover, noted it is "written in accessible, non-technical language, [and] should be read by everyone concerned with economic growth in less economically developed countries and the more prosperous…" I wholeheartedly agree.
Much of what I read in the news now makes more sense. I have read the term Digital Divide used to differentiate between developed and non-developed countries, but had not thought this through until reading Mitch's book. As I work in adult education, the need to constantly upgrade and make use of information and communication technology ( ICT) is clear. Mitch argues developing countries need to invest in ICT and in human capital to make use of ICT and to develop the institutions that promote these investments, first in general terms and then in case studies of Singapore and Malaysia.
As countries transition from competing on cheap labour to competing on the knowledge base of workers, human resource development is key in every country. Mitch's book compares this change in historical context, including how electrification changed our industrial and household structures requiring increased human resource development. Call Ben McNally Books, get a copy of No Miracle, an informative, enlightening and timely read.
Return to top
Harvard Serves: Planting Trees at the Evergreen Brickworks
Grace Burns, AB '85
On Saturday, April 27, 2013, the Harvard Club of Toronto participated in a 'Harvard Serves' event at Evergreen Brickworks in Toronto. Thirteen Harvard Club affiliated volunteers, including two families with young children, spent the morning planting trees on the east side of the Brickworks property.
A project manager from the Evergreen Brickworks' briefed our group on the site's interesting history after which we planted approximately 150 cedar and white birch trees. The weather cooperated, people brought their energy and enthusiasm, and it was a fun and successful event! For many, it was the highlight of their weekend, and it was satisfying to know we had improved the landscape at Toronto Brickworks.
This is the second year the Harvard Club of Toronto has been involved in tree planting at Brickworks during the Harvard Serves month of April, and hopefully it won't be the last. Many thanks to all those who participated and here's to the next time!
Return to top