The Harvard Club of Toronto invites you to
Insiders backstage tour of Massey Hall, Toronto
Wednesday, May 18, 2022
6:30pm
Massey Hall
178 Victoria St, Toronto, ON M5B 1T7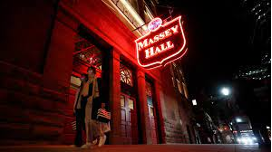 Do you love music, architecture, and Toronto history? This event is for you! Join us for a backstage visit to the newly re-opened Massey Hall – fresh from its massive 3-year renovation and revitalisation.

Harvard Club of Toronto members have an extraordinary opportunity to tour the beautiful, hallowed hall of Canadian music from the inside out. Massey Hall is a national historic monument and an aspirational home for great Canadian and international musicians and entertainers. Industrialist Hart Massey commissioned the hall in 1894, as a gift to the city of Toronto.

For the last three years it has been restored and updated by Chief Architect Marianne McKenna, and the KPMB Architects team. Reimagining this legendary venue, the Massey Hall Revitalization includes a seven-storey addition to the original historic Hall to accommodate programs for artists, communities, and audiences. The Allied Music Centre is designed for music creation, education, and excellence, with performance venues and spaces for artists and community events.

Harvard Club of Toronto members' exclusive event: Join us for this unique opportunity of a guided tour of Massey Hall our first 'live' on-location in-person event in +2 years! What a great opportunity to visit this Toronto gem with the Harvard Club of Toronto.
SPACE IS LIMITED, SO REGISTER NOW. THIS IS A SPECIAL EVENT FOR HCT MEMBERS ONLY.

Agenda:
6:15pm - meet up inside the Massey Hall main entrance on Shuter Street.
6:30pm - tour starts
Registrants will tour the building and see some of the almost-finished areas. This part of the tour would be optional – and will require wearing a hard hat and boots provided by Massey Hall.
7:30pm (approximate) – refreshments
Casual wine and cheese in one of the Massey Hall rooms

Parking - N.B. Parking is challenging around Massey Hall. Learn more HERE.

About Massey Hall:
For further info please contact Jonathan Alderson ---- Jonathan_Alderson@post.Harvard.edu