Please join the Harvard Club of Toronto for a brown bag lunch with Dave Meslin for a talk called:
Tackling our Democratic Deficit​
WHEN: Wednesday February 26, 2020, 12:00 – 1:30 pm
WHERE: CIFAR, MaRS West Tower #505, Board Room, 661 University Avenue (subway: Queen's Park)
RSVP: hctoronto@post.harvard.edu
COST: This is a FREE event for Harvard Club of Toronto members.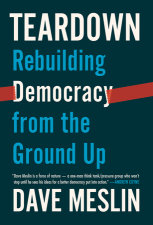 Dave Meslin is an activist, artist, and community organizer who inspires better engagement between governments and citizens. He is the founder of the Toronto Public Space Committee and Cycle Toronto. Meslin's TED talk about apathy has more than 1.8 million views and his 90-second video clip from the 2016 federal election coverage, using stacks of Lego bricks to explain how our voting system fails us, has over 2.5 million views on Facebook. Twitter: @meslin
Teardown: Rebuilding Democracy from the Ground Up is a collection of solutions to bring our democratic ecosystem to life - in our daily lives and in our legislatures. Meslin's best-selling book is a recipe for change. A cure for cynicism. A war on apathy.
The Harvard Club of Toronto's Brown Bag Lunches are seminar-like sessions with a question and answer session. Please bring your "brown bag" lunch, enjoy a presentation by our speaker and engage in a lively discussion with alumni. Beverages will be provided.